Sustainable Aviation Fuel: YOUR PATH TO GREENER CREDENTIALS
Your customers have never been more concerned with your environmental practices. Discover the important role DHL's Sustainable Aviation Fuel initiative is playing in helping enterprises of all sizes improve their sustainability – and how your business can join them.


What is GoGreen Plus?
DHL Express has recently launched GoGreen Plus, a dedicated solution to help businesses reduce the carbon emissions associated with their shipments through the use of Sustainable Aviation Fuel. SAF is a biofuel that is produced from renewable sources such as vegetable oils, animal fats, waste products, and agricultural crops. SAF is specifically designed to be used as a substitute for traditional jet fuel and can reduce greenhouse gas emissions by up to 80% compared to fossil fuels.


Why it matters – Now More Than Ever
Sustainability is more than just a buzz word. It's one of the most significant trends to impact all industries in recent times. Within the e-commerce sector, for example, online shoppers are increasingly concerned with the environmental impact of their purchases, with 88% saying they are more likely to be loyal to a business which supports environmental issues1.
Perhaps your business has already made some greener changes – switching to recyclable packaging or joining a carbon offsetting scheme. But there's an exciting new way to transform your logistics, with DHL's landmark scheme allowing customers to use Sustainable Aviation Fuel for their deliveries.


"We know our customers are committed to reducing their environmental impact so it's important we're giving them the means to do so. I'm delighted that our investment in SAF can now be fully leveraged by customers to enable them to bring down the emissions of their shipments.
SAF is currently the primary route to reducing carbon emissions in aviation, so this is the most effective way to help our customers make their own supply chains more sustainable."
John Pearson,
CEO DHL Express
What is the benefit of GoGreen Plus?
51% of consumers say understanding the carbon footprint of their delivery will be "very important" in the next 5 years2. With GoGreen Plus, your business has a unique opportunity to tailor its CO2e reduction and the amount of SAF it uses.
In contrast to "offsetting" – where businesses "neutralize" their emissions through environmental programs like reforestation and habitat restoration projects – GoGreen Plus is "insetting". This means businesses can take actions to reduce their Scope 3 emissions, the indirect greenhouse gas emissions that occur in their value chain. This method is a more direct and meaningful way to measure progress in reducing emissions. It can be used for DHL customers' own voluntary emission reporting and follows the Science Based Target Initiative (SBTi) philosophy.
The GoGreen Plus service can be selected for individual shipments, making it a flexible option for SMEs and e-commerce businesses with smaller cargo loads.

How does it work?
You now have two options to select GoGreen Plus with DHL Express: either on a contractual basis, or when choosing your shipping service through MyDHL+, DHL Express' online shipping and tracking platform.
Via the contractual model, your business decides how much it would like to reduce its CO2e and how much to invest in Sustainable Aviation Fuel. Full flexibility is offered in this case. DHL Express uses the contribution to invest in SAF. An independent auditor will annually verify the emission reduction value of the purchased SAF, as well as verifying that all investments have been exclusively used for SAF.
Your company will receive a certificate with the emission reduction value, which can be used to reduce your own Scope 3 footprint.
DHL will invoice you via your preference of a lump sum or a per lb. charge, along with a complimentary Carbon Footprint report.
You can reach out to your DHL Express representative for more information on this. Via the MyDHL+ option, you can select GoGreen Plus on an individual shipment level, which comes with a standard CO2e reduction of ~30%.

Why partner with DHL?
Deutsche Post DHL Group has committed to the ambitious goal of reducing all logistics-related emissions to net-zero by the year 2050 – and works closely with all customers to help them achieve their own goals.
DHL Express has announced two of the largest ever SAF deals with BP and Neste, amounting to more than 800 million liters. This contributes to DHL's target of using 30% SAF for all air transport by 2030.

Commit to change
Sustainability matters – to the planet, to your customers, and to your business' bottom line. With DHL's GoGreen Plus service, your business can demonstrate its commitment to a more sustainable future.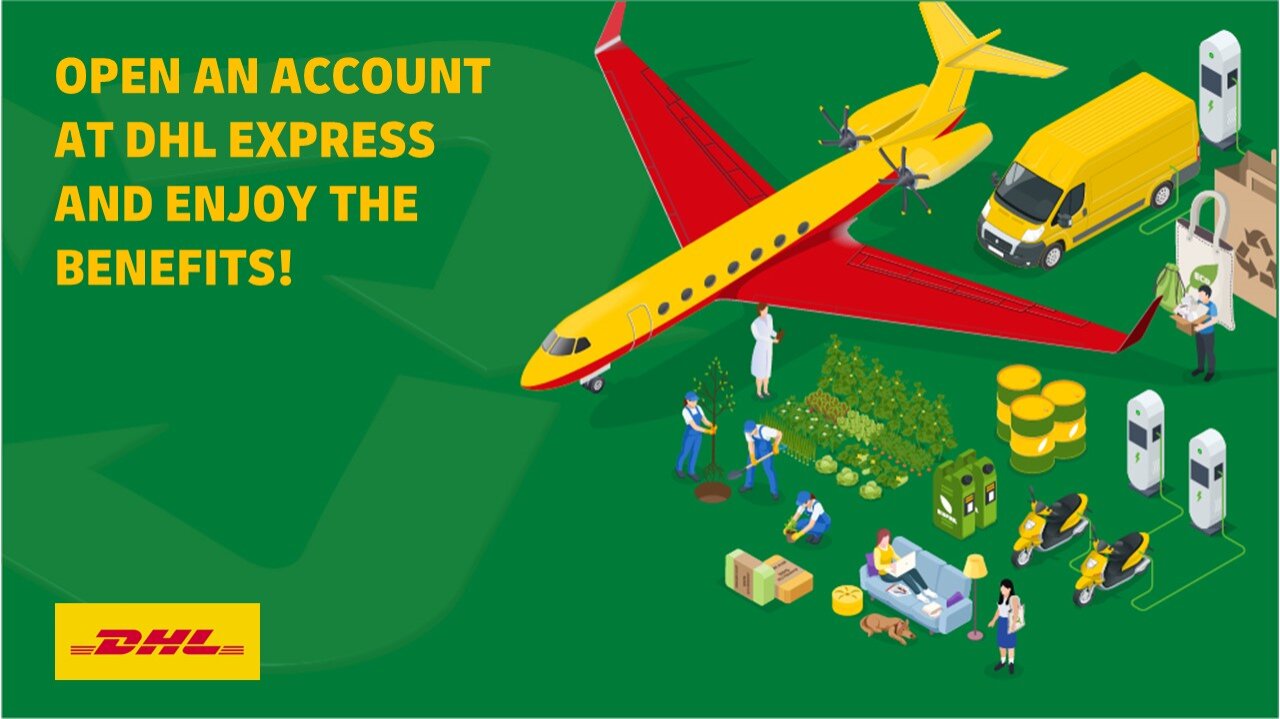 Open a DHL Express Account to discover how GoGreen Plus can help your business grow.